SERVING A WORLD WIDE MARKET
Turn-key analytical solutions
Norsk Analyse is one of the strongest brands for turn-key analytical solutions in the Oil & Gas, Power & Energy, Process, and Maritime Industry. Thru 33 years of business, Norsk Analyse has earned the reputation as a high quality solution integrator.
Oil & Gas
As a proven leader in the oil & gas industry, we to strive for continuous improvements in quality, cost with skillful solutions and engineering.
Our cutting edge products and solutions are designed to meet the present world requirements of the industry.
Marine
The shipping fleet is responsible for a significant part of pollutants released to air and water.
Most ships burn fossil fuels, often the dirtiest fuel on the market and emissions of carbon dioxide, nitrogen and sulphur oxides directly affect our global climate.
Norsk Analyse offers systems that addresses these challenges.
Power & Industry
Custom engineered and prefabricated systems are accommodated to meet customer specifications and operating conditions.
Our engineering solutions comply with local standards, and to any installation classifications required.
TRAINING center
At Norsk Analyse, we value our customers and their analyser systems
– in operation all over the world.
In order to ensure reliable operation of your systems in the field, Norsk Analyse has created a training platform, where customers can obtain or refresh their knowledge to perform basic or advanced maintenance training of their specific system.
We also offer ONLINE training programs with real-time maintenance video training hosted by one of our experienced service engineers.
Our modules supports the most essential procedures and requirements and are scheduled to fit your operational schedule or port calls.
CrewTRAIN
Especially designed for your onboard crew
Designed for your onboard crew to maintain and ensure reliable operation of the ShipCEMS analyser.
Your crew will receive real-time maintenance training and video support of the most essential procedures ShipCEMS require.
Use our online booking or contact Norsk Analyse today for your dedicated training program and future protection of a well-maintained ShipCEMS unit.
Norsk Analyse – World Class Service!
a strong brand with analytical solutions
Norsk Analyse is one of the markets strongest brands for turn-key analytical solutions towards the Oil & Gas industry, Process Industry and Maritime gas exhaust flue monitoring.
Norsk Analyse has earned the reputation as a highly competent solution provider. Our assistance stretches from system architecture and product implementation, to a complete maintenance and after sales support system.
Strategically established in six countries, Norway, Sweden, Denmark, Finland, Trinidad and Turkey.
We serve a worldwide market, wherever our customers need us.
With customers, trusting their business to our solutions, we own them to be more than whatthey expect, providing the highest quality products and services. Because we expect nothing less than the best ourselves!
We focus on developing a culture of trust both within our organization and with our customers, dedicated to continuously improve in proceeding forward.
When we agree on a project, we make our customer's needs and safety our top priority.
We will pursue quality in everything we do:
Securing our deliveries by having the best team with an acute skill set.
Engaged in our commitment to deliver what is precise for our customers.
Take ownership and pride to the work we deliver from beginning to end.
Support and challenge each other, from management to front-line contributor, to ensuring only high-quality products, engineering and services are delivered to our customers.
We are committed to quality!
Smart support at every stage
Every product has a life cycle and needs to deliver maximum availability and be as cost efficient as possible at all times while you are staying focused on your core operation.
We can help you achieve this by providing a world-wide, customisable, scalable and fully integrated support solution, simply smart.
Making the invisible, visible
As a TOTAL SOLUTION INTEGRATOR, Norsk Analyse specializes in bringing together high-class products and sub-components into a complete system, ensuring flawless functionality and long-term quality.
Our solution integrator skills are defined by our extensive knowledge into systems and enterprising architecture, software and hardware engineering, interface protocols, along with general problem solving ability. Our experienced depth of knowledge, gives to our customers` needs, system productions, as well as on-site implementation.
Norsk Analyse, is your partner thru the complete analytical process from pre-assessments, system solutions, to long-term maintenance systems.
We are committed to deliver according to agreed specification and set delivery times!
Norsk Analyse AS was founded in the summer of 1988 by a couple of analytical engineers, originating from the process analyser and system integration industry in Norway.
The original founders had more than 10 years` experience from marine, oil & gas and on-shore industries based in Scandinavia. NA grew to become a specialized Process Analyser System Integrator group with sales outlets in Sweden in 1989, in Denmark in 1990, and the US 1992.
The sales outlets became individual Service & Sales companies in the 1990´s, and in 1995, we established a major hub for maintenance and service supports in Trinidad 1995. Trinidad has a vast variety of industries and is a major world supplier of ammonia, methanol and hydrocarbon commodities.
Our service company entered into maintenance contracts on these sites, and the Trinidad office has become a substantial office within our group.
In 2018 after 30 years of business, all the Nordic companies including Turkey where united under one name, with the intention to build one common strong brand.
With a current layout and graphical approach, along with the same commitment to quality, our brand name is recognized globally, as NORSK ANALYSE.
coming together is a beginning
working together is success

Increasing demand for efficiency and profitability involves minimizing analysis maintenance and high standards of regularity and accuracy.
Continuous analysis will always be a compromise between accuracy, speed, cost and maintenance requirements. This involves major challenges for users to evaluate different analysis systems to their individual processes.
Norsk Analyse has an extensive portfolio with first class partners, products and solutions designed to meet and overcome the challenges of today and what is ahead.
The Norsk Analyse personnel are educated thru our partner programs and participates on both technical training sessions and commercial sales information meetings.
In this format, we can deliver to you optimum solutions and the newest products when customizing your requirements.
To process your projects thru Norsk Analyse also means obtaining the best from our partners.
Norsk Analyses Service Department has a strong understanding of their product and our final solutions. They demonstrates a good problem-solving attitude and interact well with our personnel running the daily business. The Service man on site displayed good service attitude, securing our satisfaction, by following up his visit, controlling if anything else was in need of service.
Statoil Kårstø
Norsk Analyse is a reliable partner for our analytical business. They always strive to give quick and precise feedback after meetings. For us where time is money, sparring with Norsk Analyse to find the best solution for our needs is valuable.
Project Mngr, Aker BP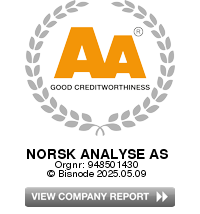 We'll be back to you soon